Good evening dear friends –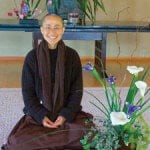 This Thursday (tomorrow), we will begin our study of Mindfulness as Medicine: A Story of Healing Body and Spirit by Sr Dang Nghiem. If you do not have a chance to read the book in advance, do not worry! Excerpts will be provided and read before Dharma discussion.
Then, on the first Thursday of October, we will recite the Fourteen Mindfulness Trainings of the Order of Interbeing. All are welcome for the recitation and discussion.
The Plum Village meditation app –with talks, chants, meditations, and more–has been released. It appears to be available only for Apple products (please let us know if you discover otherwise). Available at: https://itunes.apple.com/us/app/plum-village-zen-meditation/id1273719339?mt=8
You can also explore other Plum Village mindful apps here.
Retreat note from Calgary: November 9-12: Nothing to do, Nowhere to go.
"The Wild Rose Sangha in Calgary is holding a residential retreat with Dharma Teacher Chan Huy (from Montreal) in the mountains this year.  The starry skies and mountain views are a real joy on this retreat.  We would very much enjoy seeing our friends from B.C."
For more information and registration: 
http://wildrosesangha.ca/wordpress/retreat2018/